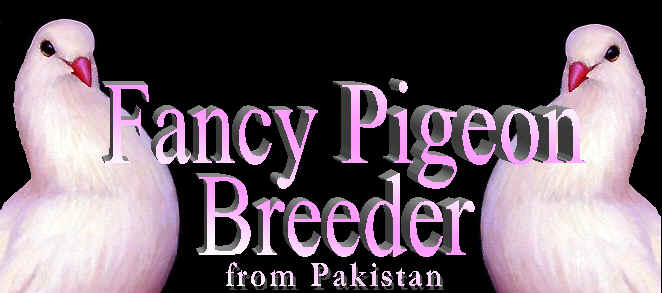 Site Index
Fancy Pigeons
E-mail me for any further information

My passion for keeping pigeons goes back in the year 1975, when I first kept tipplers. Our Local breeds of pigeons are mainly flying breeds like tipplers, kabra, kuch paras and other breeds flown in (Tukris) kits. Our other local breeds are Indian fantails, shirazi (known as Lahores), Mookee. Indian fantails and mookee are very rare and mostly pigeon fanciers donít keep them and now days it is difficult to find pure breeds.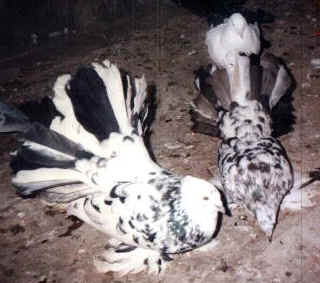 Since 1975 I have kept different breeds of fancy pigeons, which includes, fantails, pouters, homers, modena, king, Chinese owls, Jacobins. I am known to be the best breeders of fantails, pouters and Jacobins in my city.
The following imported breeds of pigeons are very popular and commonly kept by the pigeon fanciers in Pakistan. They are Fantails, Racing Homers, King, Modena, Trumpeter, Chinese owls, different types of Pouters and croppers, Tumblers, Montuban, Runts and Giant Hungarian Pigeon.
I am also Founder member/ Ex-General Secretary of PAKISTAN RACING AND SHOW PIGEONS ASSOCIATION. This is the first organized club, which deals with fancy and racing homers.. The club holds the first ever pigeon show in the history of Pakistan in 1998 in which I got 7 prizes. The second show was held in March 2000, in which I got 2 prizes. You can see the photos of both the shows. The club also holds the first pigeon race in 1999.
I have also contributed articles on breeding different kinds of pigeons, which were published in the pigeon magazines of USA, Australia and Newzeland.
My favorite breeds of fancy pigeons are Fantails, Indian fantails (American origin) pouters and Jacobins.
I have some 20 pairs of fantails and Indian fantails (colors are white, black, red, golden, ribbon tail golden, black tail, red tail, white tail red, white tail golden, white tail black). In pouters I have Reverse wing pouter, Saxon, Hana, Brunner and Pigmy. In Jacobins I have two pairs in black and splash.
I am breeding pigeons for the last twenty years. I think the best way of learning is to meet different type of breeders, talk to them and how they breed pigeons. I have also found that always buy good breeding stock and always start with the young ones. The following techniques of breeding pigeons are my own experiences, which I got after breeding, fancy pigeons for more than 20 years. The most important aspect of breeding any kind of bird, you must have consistency and patience, if you are impatient and inconsistent you cannot be a good breeder. Always try to learn from the mistakes you commit in the past, never repeat those. The sick pigeon should be attended immediately; never try to check on the other day, I believe the other day never comes as for as pigeons are concerned. Try to keep as many pigeons as you can take care off. I always get very good results with 10 pairs and never the same with 100 pairs.
Breeding Techniques

Cages
I have one loft about 23 feet long, 10 feet deep and 8 feet high. I keep one pair in one cage; the dimensions are 2.5 feet deep, 2 feet wide and 2 feet high. I have one loft 10 feet by 7 feet in which I keep young ones and the parent flocks after three consecutive breeds.
I keep feed and water available all the times. In feeding I give them corn, peas, different kinds of pulses, wheat, rice, barley, millet, sunflower seed and most important chicken feed, I found chicken feed very important for newly hatched chicks. The growth of the chicks improved tremendously when I start giving chicken feed to my pigeons. I also give vitamins in water on three days a week. I make grit made of chips, broken bricks, charcoal, common salts, and few local herbs mixed and made available to them all the times.
I tried both the method of keeping pigeons in colony and also in one pair in one cage and found that keeping one pair in one cage is the best. I have some 40 cages to feed my pigeons and take care; it took me half an hour in the morning and the same in the afternoon. I switch off lights at about 10 pm in the winter and summer. We usually breed pigeons in the months of March till June and gain October till January. However, many breeders breed the whole year, except in the rainy seasons that are July to September. I found fantails to be the best breeder and feeder. I use earthen bowl for breeding purpose and use straw for nesting material, I spray coopex power for killing all types of liceís and ticks on the pigeons, I found it very effective. I also spray the powder on the nest bowls, you can see nest bowl in my pictures.
The vaccines for paratyphoid and PMV-I are not available in Pakistan. Almost all the fanciers use ND vaccines as used for poultry. It is pity for our pigeon fanciers that we donít have access to the proper medicines for pigeon diseases.
My Articles on Fancy Pigeons